St. George's Center in Riviera Beach, located at 21 West 22nd Street, in Riviera Beach, (just off US 1), is growing! As part of their soon to be new offices, church and community fellowship hall, St. George Table, the feeding program at St. George's Center, is building an aquaponics garden.
Aquaponics is the system of aquaculture in which the waste produced by farmed fish or other aquatic animals provides nutrients for plants grown hydroponically, which in turn purifies the water.
For the past four years, Alex Kramer, a husband and father, and an insurance broker for Northstar out of Chicago who attends St. Mark's in Palm Beach Gardens with his family, has served as President of the Board. Excited about the possibilities with Aquaponic gardening, Alex credits the other board members and many volunteers, both current and past, for the longstanding presence of St. George's Center. The Center has served hundreds of thousands of people in need of food, personal items, and spiritual and emotional counseling for over four decades in the unassuming, yet historical church property now getting a much needed, and deserved, makeover. 
Alex says that cost savings, space savings, and a greater yield in food are just a few of the benefits of the aquaponics way of gardening. Using water and fish, the garden grows upward and seeds grow much more quickly into an edible harvest than in a soil garden.  The center plans to sell the surplus of food to the larger community, and the proceeds will go back into the many services offered at St. George Center.
 St. George's Center provides hot meals Monday through Friday each week and take-away meal bags with sandwiches and snacks to help sustain their guests until the next mid-day meal.
They are the longest running meals program and on track to serve over 125,000 meals every year to the hungry residents of Northeast Palm Beach County.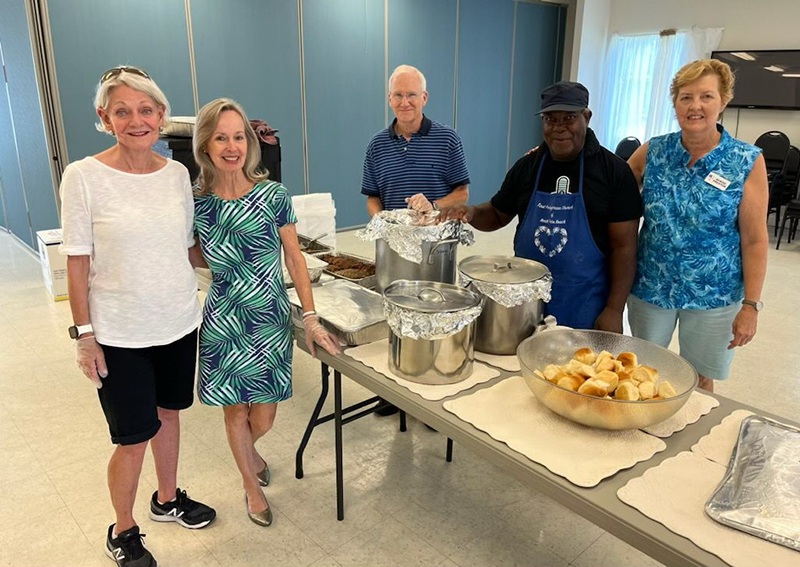 Jane Counts, Emeritus Board Member at St. George's and former employee at St. Mark's in Palm Beach Gardens for a number of years, but currently attends the Methodist church with her husband Dave, says she "felt a pull to keep coming back" when referring to her current dedication to St. George Center.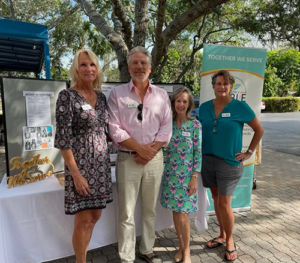 Jane shared her excitement with me about the new church, offices, fellowship hall and aquaponic garden under way. She, along with many other volunteers, has served countless hours in various aspects of the ministry. "We want to go where we are led," she says regarding the future of the ministry and God's guidance.
Alex stated that during Covid, "Covid hit us hard, like it did many ministries…donations dropped off quite a bit. It's sort of an 'out of site, out of mind' situation." He and the other board members hope to renew the spirit and dedication of giving and serving at St. George Center with those in the community as the center gets a transformation.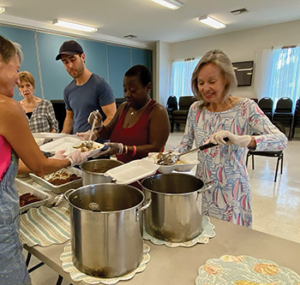 Currently, First Presbyterian in North Palm Beach has opened their kitchen for use so the ministry could continue cooking the vast amounts of food that feeds the community. The temporary Fellowship Hall where guests are served meals is located at Victory Church in West Palm Beach. And Catholic Charities in West Palm Beach has opened administrative offices for St. George Center's use while the new ones are built. Dozens of churches in the area, such as Good Shepherd Episcopal in Tequesta, Bethesda by the Sea in West Palm Beach, and Holy Spirit Lutheran in Juno Beach, have played a part in serving or supporting St. George Center. In fact, Methodists, Synagogues, Lutherans and about 20 other denominations also serve at St. George Center and Table since its inception in 1998. The center is truly an example of the Body of Believers, serving and being served.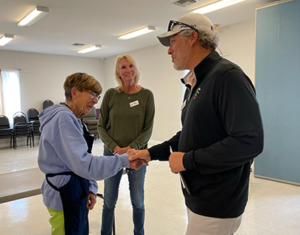 When asked what types of service they perform at the ministry, both Alex and Jane said that they've done everything from cooking, to cleaning, to serving the meals. Additionally, meetings, fundraisers and project planning are on the list of things that need to be done on a regular basis.
The annual fundraiser "Together We Serve" is a light post for the organization. It is held at St. Mark's Episopcal in Palm Beach Gardens and is a gathering event of the various denominations coming together to give, to care, and to assure hope for another year and for years to come for those in need. There are also plans for other nonprofits to be housed in the same building at St. George Center. The center will  assist people with substance abuse, legal issues, violence, and daily life issues and get to the root of the problem and find viable solutions.
"We are learning to be better at what we do," Alex remarks.
"What does the Lord require of you? To act justly, and to love mercy and to walk humbly with your God." Micah 6:8
If you'd like to learn more about how you can bless the ministry of St. George Table, or if you need help, please visit stgeorgetable.org to see the various ministries of St. George's Center. 
Website: stgeorgetable.org
Email: contact.us@stgeorgetable.com
Property Location: 21 W. 22nd Street, West Palm Beach, FL
Mailing Address: P.O. Box 10584, Riviera Beach, FL 33419-0584.