Most Floridians are familiar with Henry Flagler, the notable 19th-century American industrialist, but few are aware of the foundation of faith that fueled much of his direction and many of his decisions. 
To prepare to tell the story of Henry Flagler, we started with a tour of the Henry Morrison Flagler Museum (Flagler Museum) in Palm Beach, guided by Mr. David Carson, Public Affairs Director. Here we learned a wealth of information about the legacy of this influential figure in Florida's history and growth, especially in the development of its East Coast.
Flagler's Roots
Henry Flagler was the son of a Pastor, born on January 2, 1830, to the Reverend Isaac Flagler (a Presbyterian Minister) and his wife, Elizabeth Caldwell Harkness Flagler. 
Presbyterianism developed out of the Protestant Reformation, influenced by the teachings of 16th-century French reformer, theologian and pastor John Calvin in Geneva, Switzerland. 
These early religious influences exhibited themselves later in Flagler's adult character.
According to accounts in The Flagler Story and the Memorial Church, recorded by The Rev. Howard Lee of the Memorial Presbyterian Church Society, St. Augustine, Florida, Henry Flagler was modest, generous in deed, considerate, and a good steward of his wealth. 
It was said that Henry Flagler was pure in word: "Men who worked closely with him report that in all their years in his company, they never heard him use anything but clean language. Profanity was not part of the man. Though he suffered blunders from many of his associates and employees, he was noted for his quiet self-control and his kindness and consideration toward others."
Of Mr. Flagler's generosity, evidence abounds, but one story in particular was noted in The Flagler Story and the Memorial Church. 
"It was not easy to discover where his hand had helped. He preferred to remain anonymous. He once handed the Rev. Dr. John R. Paxton, his New York pastor, a check for $100,000 on one New Year's Day, a holiday gift for charity. The pastor might use it at his discretion, the only condition being that no one should know the source of the gift."
Flagler was also known for his modesty: "One of his employees, who knew him well, once said, 'I should say that he is the most modest man in the world,' and then related how the people clamored to change the name of Miami to Flagler but Flagler himself would not permit it."
Mr. David Carson of the Flagler Museum explained, "The name of the small town that became Miami was formerly "Fort Dallas". Following the extension of the FEC Railway, the town developed rapidly. The townspeople incorporated their growing city and wanted to name it Flagler City.  On seeking approval from Henry Flagler, he declined the honor and recommended they name their new city after the Native American Indian river that runs into Biscayne Bay, Miama.  Hence, Miami." 
During his media tours Mr. Carson often quips that, if not for Flagler's humility, we would have an 80's TV show called Flagler Vice."
Flagler honored the Lord's Day. "Flagler's hard work and tremendous expenditures in Florida when he might have comfortably retired, sprang from his religious principles. True to his Calvinist upbringing, he believed in work as a virtue. To the end of his active life he worked six full days a week."
Finally, he believed in the prudent stewardship of his money. "Another Calvinist belief is that wealth is a trust from God, and a man of wealth is but a steward–a trustee. The wealth belonging actually to God, the steward is obligated to use it to the glory of God and the good of men. Thus, Flagler saw Florida as the opportunity to use the great wealth that had been entrusted to him in helping others. 'I have come to the conclusion,' Flagler once said, 'that the best way to help others is to help them help themselves.' This he did in Florida."
A Simple Start
Although Henry Flagler had great affection for his very devout father and mother, he rejected the poverty in which he was raised. From it, though, he learned simplicity, of which Flagler stated, "When I was young I was too poor to indulge in bad habits. By the time I was able to afford them, it had become a fixed habit to live simply." 
Backed with a solid Christian faith and a hearty work ethic, Henry Flagler moved from his hometown in Hopewell, New York, when he was 14 years old and made his way to Ohio to begin working in business with his mother's second husband's family, the Harknesses. During his time in Ohio, Henry Flagler wed Mary Harkness, his step-uncle's second daughter, in 1853.
Eventually he became a partner in one of the family companies, which expanded into a grain and distillery business; John D. Rockefeller was one of the grain brokers his company shipped grain to in Cleveland, Ohio. 
When the grain company began branching out into the distillery business, Flagler dissented. This was in the late 1850s, long before the temperance movement had arisen, and the whiskey business was thought entirely respectable. However, Henry Flagler had been taught by his minister father about the evils of liquor traffic. According to Mr. John Blades, Executive Director of the Flagler Museum, 
"Indeed, Henry Flagler at one point owned a very profitable distillery, but he ended up selling it because he said it bothered his conscience." He was perennially an abstainer from alcohol and lost no opportunity to discourage its use.
Industrial Growth
In the 1960's Henry Flagler made the acquaintance of John D. Rockefeller. Shortly after that, Rockefeller decided that he wanted to start his own oil refinery due to the emergence of the booming oil business in Cleveland, and in 1867, he approached Flagler about it. The financial backing came from Henry's stepbrother, Stephen Harkness, who agreed to the deal on the condition that Henry be made a partner. The association between these two men launched what eventually became the Standard Oil Company, which within five years of its start led the American oil refining industry. Growing the business, Flagler bought up most of the smaller oil refining companies, creating a monopoly. Later, this would be addressed by lawsuits and accusations of criminal acts, including Congress calling him in for possible anti-trust violations.
In 1882, The Standard Oil Trust was created, making Standard companies in a number of states; Flagler then became President of Standard Oil Company of New Jersey, working from the office in New York.
Amidst all of his major life and business successes and failures, every Sunday morning the Flaglers could be found at their local church. The records of the First Congregational Church in Ohio reflect his service as Superintendent of Sunday School, and he regularly taught Sunday School at other churches. His habit of attending church regularly continued throughout his life, and he counted ministers among his good friends. 
Florida Bound
The poor health of Henry Flagler's wife, Mary, brought them to Jacksonville, Florida, in 1878 to escape the cold winters up north. Although Mary died in 1881, the balmy weather stayed in Flagler's memory.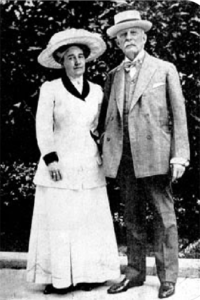 Two years after Mary's death, Henry married his wife's caregiver, Ida. They decided upon a honeymoon in St. Augustine, and while he was enjoying to the love of his new bride, he fell in love with the city. He found, however, that the area was lacking in amenities for lodging and transportation. This void of hospitality in St. Augustine gave birth to his vision of turning the young state into a paradise for many people.
Soon after his marriage to Ida, Henry Flagler purchased the Jacksonville, St. Augustine, and Halifax railroads, eventually forming the Florida East Coast Railway (FEC). 
Flagler continued his development of the railroad and hotel planning down the Coast, all the way to the area that is now known as Palm Beach and West Palm Beach and began working on hotels that would draw a population to the area.
According to Mr. Carson, "Flagler hired the architects, John Carrère and Thomas Hastings, who designed and constructed the Hotel Ponce de Leon. Twenty years later, the same two men also designed Whitehall." Hastings was also the son of a Presbyterian minister. 
Earthly Empires
While building earthly empires, eternal empires were also on his mind. According to Rev. Howard Lee, "Flagler's interest was always centered in the making of communities, the development of agriculture, and the encouragement of industry. When a new town was started, work on a school and a church was begun at the same time as the railroad station."
Soon after Flagler began his work in St. Augustine, Florida, he erected the Grace Methodist church which he gave to the congregation in exchange for a small lot they owned. Through his generosity, the Catholic Cathedral in St. Augustine was rebuilt and the Baptist church erected.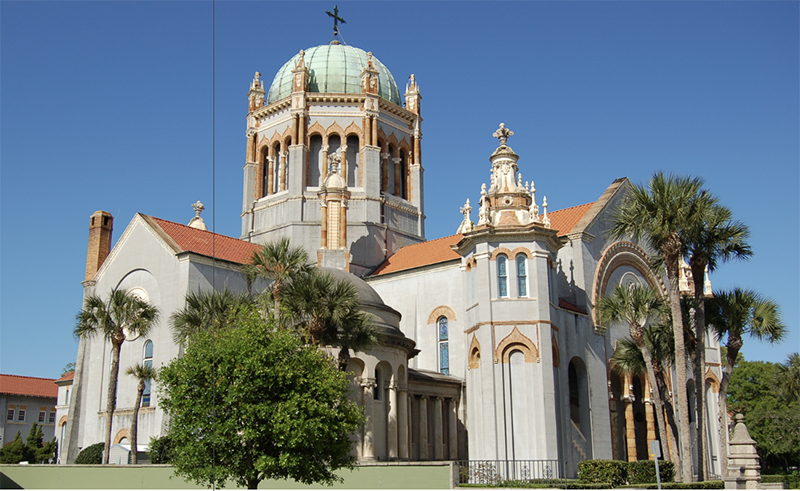 He also built the magnificent Memorial Presbyterian Church in St. Augustine, where he was later laid to rest in a special mausoleum attached to the church.
By now Flagler's wealth was massive, but of his plans and prosperity, he said, "I do not expect during my lifetime to get any monetary gain from the vast expenditure of time, money and thought that I am making in Florida. If I am spared long enough to carry out my plans I shall be satisfied. I have been singularly blessed in my business career, and I feel that where a man has been blessed with more than usual success that he will be held responsible to his Maker for the use that his money is put to."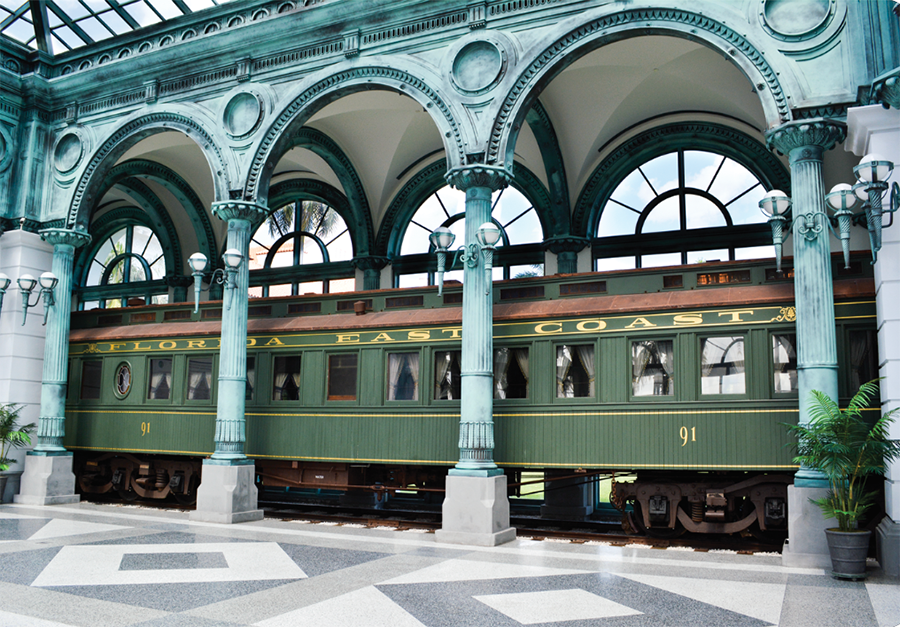 The railway he created down the east coast of Florida was an engineering marvel and took nearly two years to reach what is now Palm Beach and West Palm Beach, which was originally where he had planned to stop. In 1896 he continued it to Miami, where he opened the Hotel Royal Palm. 
Sadly, by the time the railroad reached the Miami area, his second wife, Ida, who had experienced signs of mental illness for several years, was declared insane and in 1895, was institutionalized. After the Florida Legislature passed a bill that made incurable insanity grounds for divorce, Flagler divorced Ida, but continued to provide for her.
In 1901 Henry Flagler married Mary Lily Kenan. It has long been rumored that the 75-room, 100,000 square foot waterfront Whitehall home was a gift from Henry to Mary Lily Kenan, but no evidence has been found to support this rumor.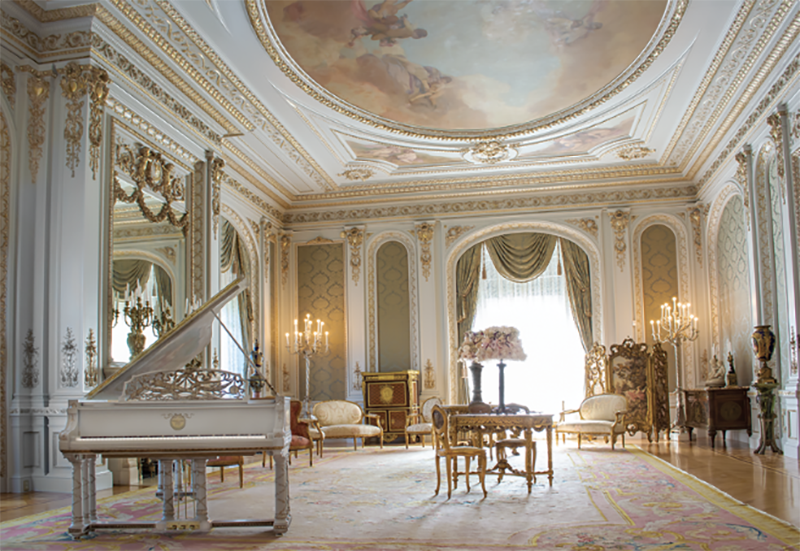 Already in his late 50's, when most people might have been considering slowing down, Mr. Flagler began a new career of which he never tired, and which saw him eventually create the Over-Sea Railroad. Never slowing down, Flagler decided in 1905 that the railroad should be extended all the way from Miami to Key West which was at the time, the most populated city in the state and until the railroad arrived was only accessible by boat. Of all his accomplishments, that extension was his proudest.
Philanthropy
In his spare time, when Mr. Flagler was not adding to the infrastructure of America's 27th state, he was busy donating to hospitals, power companies, (i.e., FPL), colleges, countless other public benefactions, and to churches of many denominations and locations–with his faith as guide.
Mr. John Blades told PBC Voice, "When agreeing to take on financial responsibility for the Royal Poinciana Chapel in Palm Beach, Flagler did so under certain conditions."
• It was to be nondenominational.
• It was to have the freest pulpit in the land.
• It was to have the finest preaching in the Christian world.
• It was to have the best music available.
• It was never to have debt.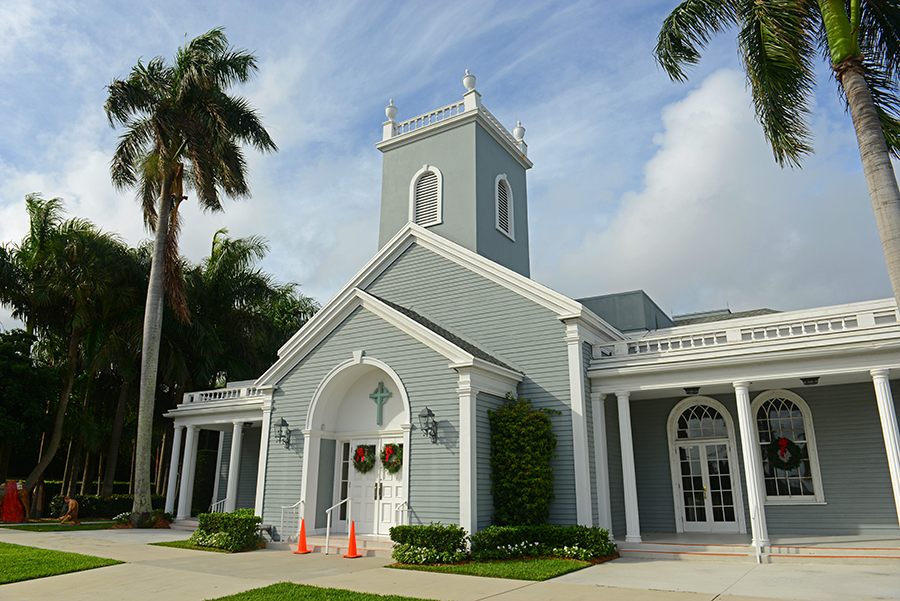 From the Royal Poinciana Chapel website, we learned that, "In searching for 'the finest preaching in the Christian world," Flagler pursued a young attorney and clergyman, Dr. George Morgan Ward, who was, at that time, president of Rollins College. He invited Dr. Ward to come to the Chapel, but he received the reply, 'I don't want to give cream puff sermons to the idle rich.' "
Mr. Flagler, whose invitations were rarely denied, wrote back,
"I received your sassy letter, but please come down anyway and let's talk."
Mr. Blades also shared that Flagler did his best to shut down a gambling establishment in Palm Beach owned by Edward R. Bradley, saying, "I will not provide the grist for Bradley's gambling mill." Although he was unsuccessful, Blades said, "Bradley later donated land to the Town of Palm Beach to be used as a park and land in West Palm Beach for a school that still exists, now named The Rosarian Academy." 
Mr. Flagler also provided funding for land for St. Ann Catholic Church in West Palm Beach in 1902, an icon in the city, surrounded by government buildings, restaurants, and other bustling businesses.
In short, Henry Flagler laid the groundwork to make Florida what it is today. He was a man of vision, charity and generosity—all grounded by a firm faith and belief that had been instilled in him as a child.
We wish to thank Mr. David Carson, Public Affairs Director, Flagler Museum, for his courtesy and kindness on a private tour of the museum where he told the story of this great man and the stunning home that is now shared with anyone who wishes to visit. 
We would also like to thank Mr. John Blades, Executive Director, Flagler Museum, for all of the helpful information he provided for this article. 
Additionally, we would like to thank contributing writer, David DiCrescenzo and editor, Diane Reeves.
For more information about the The Flagler Museum and the man who designed, built, and lived in it, please visit flaglermuseum.us.
SOURCE: http://www.keyshistory.org.generalhistory.html