The girls came out in force for a night of wisdom and worship at the Kings Academy last Thursday. The event was titled "Gurls Night". It took place in the Page Family Center for Performing Arts at the academy's beautiful campus in West Palm Beach, Florida. And Gurls Night wasn't just for girls; moms, aunts, sisters, and grandmothers were also invited.
The guest speaker was Mo Isom Aiken, a nationally sought-after speaker, New York Times bestselling author, and a powerful voice for the younger generation.
The night kicked off with a girl's group singing spiritual, inspirational songs and then Mo captured the audience with her charm and magnetism. She was dressed casually in contemporary attire, jeans with holes in the knees and a sport jacket. Her speech was anything but casual, it was powerful and inspiring. She encouraged students to release any unforgiveness, hurt, and anger to the Lord so that they can walk in freedom with compassion for others.
We were blessed to have Mo Aiken at our campus last week. Her courage and faith is an inspiration for all our students. We will continue a tradition of bringing speakers to our school so they can help give our students a better education while fulfilling the word of God. ~Josh Bartz
Some of Mo's key points were about generations of women caring for each other and coming together in the name of Christ. She called this a "multi-generational event", and that it's important for girls to learn from older generations – a quality that has been lost in today's society.
She talked about the differences of men and women; their uniqueness and character; how men can be singularly focused while women are capable of juggling "89 things."
She also spoke about the meaning of marriage between a man and a woman – how intimacy between them must also include intimacy with God.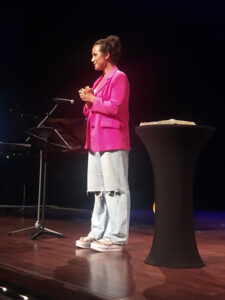 Mo Aiken's story is fascinating. She was a star soccer player at Louisiana State University until she nearly died in a car accident. Her Jeep hit an embankment and flipped three times before hitting a tree. A retired Navy paramedic who was passing by helped save her life and that was when she encountered the Holy Spirit.
She began spreading the word of God in 2012 and received national media attention for her story of adversity and faith, and her journey from broken to bold. Her first book, Wreck My Life: Journeying from Broken to Bold, was a New York Times best seller. 
Today, she travels around the country in an RV with her family ministry team called the Bold Initiative. Her family includes her husband Jeremiah and their four children. The mission is to challenge, encourage and equip Christ followers to relentlessly pursue holy and BOLD lives.
She shared intimate details of her past in her speech, including depression and her father committing suicide. The overall message to girls that night was how they can overcome any adversity with the help of God. 
Josh Bartz, Director of Student Ministries, organized the event and was delighted with the turn out. He summed it up nicely, "We were blessed to have Mo Aiken at our campus last week. Her courage and faith is an inspiration for all our students. We will continue a tradition of bringing speakers to our school so they can help give our students a better education while fulfilling the word of God."