Having lived in Florida since 1975, Mike Edwards is practically a native. He went to college here,  worked here, married his wife, Sheri here, and raised his family here (four kids and now three grandkids). 
Now he is taking the knowledge he has gained from an illustrious career in the business world and is giving back to the community in the way he can best give: to share his experience with the business community.
FAMILY
Mike was born in Portland Maine, and adopted into a military family at a young age. "My biological mother disappeared, so when I was about five my mother adopted me," Mike told PBC Voice. 
They were stationed everywhere from California to Hawaii, to Japan, where he and his three siblings spent much of their childhood. "I grew up in California for the longest duration and Hawaii & Japan in a blended family—the Brady Bunch they called it back in the day."
Everywhere they were stationed, they became actively involved in their church, but it wasn't until later in life that Mike truly adopted the Christian faith as his own.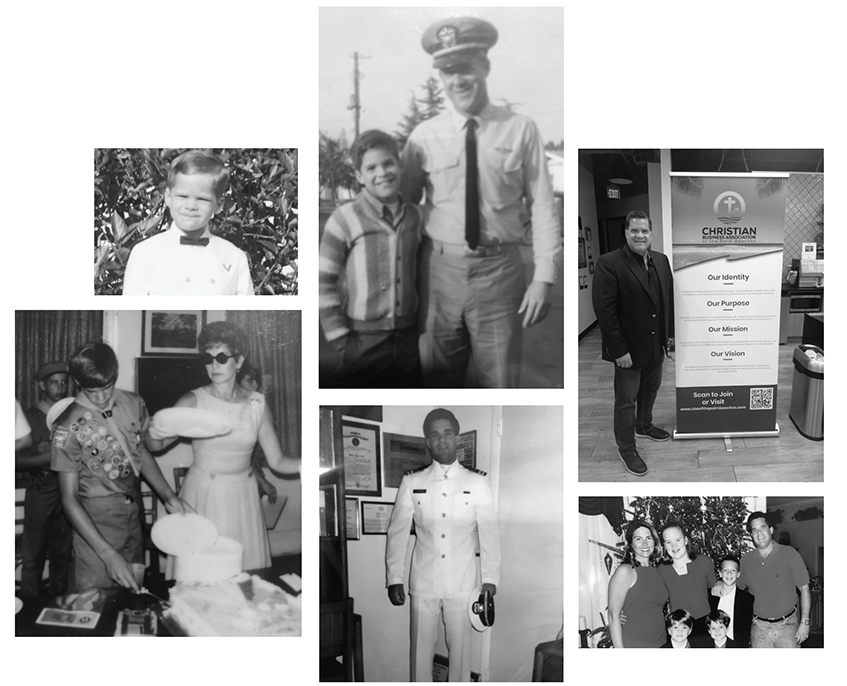 "My mom was a choir director for 50 years. I grew up in the Methodist church. From a Christian perspective, I never gave credence to when you were saved. I went to a church camp in Arrow Head Springs, Big Bear country and that's where I got saved and gave my life to Christ."(In 1971 Time Magazines Headline Front Cover-the Jesus Revolution" & where Billy Graham Recommitted his life to Jesus Christ). Mike said that the family was always at church. "We didn't know anything different."
After reading the book The Road Less Traveled, he realized the power of positive thinking and the power of a willingness to learn, change, and grow. These became the key drivers that shaped his character.
One summer after Mike's Sophomore year of high school, he and his famiily were living in Hawaii, and his father announced that they were going home to retire. Mike said, "I thought he meant California, after living outside of Malibu & San Diego" It turns out, "home" would be Pensacola, Florida.
As the son of a Navy pilot, Mike's life was ordered and predictable with little room for dissension or opinion. "My father was ultra strict. I think there was probably a lot of disfunction as we grew older and got wiser in life, and we realized that we had some disfunction. After reading the book The Road Less Traveled, he realized the power of positive thinking and the power of a willingness to learn, change, and grow. These became the key drivers that shaped his character.
Mike's outlet was sports (basketball & tennis). Another sport was diving, which ended up paying big dividends for this high school athlete. "My brother graduated from college and moved to Pensacola and became president of the Chamber of Commerce. The producers of Jaws II decided to film in Pensacola, and my brother got me a job sweeping floors. All of the sudden they needed a diver. I was 18, about to leave for college, and all the sudden, I'm operating the shark for Jaws II. It was a pretty intense summer. I got to be in the background as a diver. You could never identify me, but I got to be in the picture. I was making $750 a week. In 1977 that was a lot of money."
The next summer when he went home from college, he started a steam cleaning business during the summer. Mike said, "I was always working."
Four years later, Mike graduated with a bachelors degree in Business Management from FSU.
CAREER
Upon graduation, Mike followed in his father's footsteps and joined the Navy to become a pilot in the USN. Unfortunately his eye sight wasn't 20/20, and his imperfect vision prevented him from flying fighter jets, so after five years, he left the military serving as a Lieutenant with a Special Warfare Naval embarkment advisory team for a civilian career.
He started out in the Private Wealth banking industry. After attaining his Series 65, 7, and other licenses to become an investment banker and becoming the youngest SVP with a New York bank, Midlantic National, Mike, realized he was interested in being an entrepreneur. He had a client in the market research business that hired Mike as a consultant, and this became the direction his career started taking. 
In the meantime, an investment company and China Peregrine had become involved in building fresh dairy plants in cooperation with two cities in China. China Peregrine enterprises hired him as a consultant, and for the next three years, he accumulated 36 trips to China, representing a host of companies. 
As a seasoned consultant and Executive Coach he was developing corporations' overseas and domestic presence, whether that involved manufacturing, sales, establishing brand presence or rebranding existing products throughout the US, Asia, Canada, Mexico and South America. From here Mike has traveled and worked in over fifteen countries, working with top executives developing growth strategies and sales teams, opening trade distribution, training sales teams, and raising investment capital for overseas expansion. 
He has worked with name-worthy companies such as Coca-Cola, PepsiCo, Cadbury, Schweppes, General Mills, International Paper Co., Warner Bros., Marvel Entertainment, Blue Cross Blue Shield, The Walt Disney Company, Sara Lee, Lance Crackers, Cargill Meats, The Bruss Company, Mars Incorporated, and Masterfoods.
After an an extensive career in corporate world, and a short and unsuccessful stint with a small business of his own, Mike now had a repertoire of business administration skills from small to great. 
In 2017,  Mike started thinking about using that knowledge to help other businesses through Executive/Business Coaching and opened M3 Advisors Group. Now he is launching, separately, a business coaching practice which is a group forum of CEO's, entrepreneurs, executives and business leaders to invest in, equip, and encourage Christian CEOs and business owners. These are business people who are driven to scale their businesses and their teams who are not satisfied with the status quo. They believe in servant leadership and thrive on executing with excellence. In short, Mike wants change-makers with significant platforms that can be advanced in meaningful ways for both commercial and Kingdom purposes.  
GIVING
 

BACK

While Mike was waiting to launch Convene, he began building a local Christian business network, Christian Business Association of the Palm Beaches (CBA). so that business owners and managers could meet on a monthly basis to be inspired and get connected.

Also serving on the Board or Directors at CBA is Eric Storey, Angela Ball, Tom Rivera, Richard Jankus, Jack Chadham, Melissa Montalvo, Larrisa Shaffer, and Marc Feinberg.

Mike and the Board of Directors at CBA work hard to provide a beautiful venue, great food, and talented speakers. Some of those speakers include Bernie Cuetos, Pastor, Family Church and Pastor at PBAU, Ray Titus, Steven Mansfield, Billy Thompson, Chris Simpson and others.

Currently, Membership to CBA is under $199 and breakfasts are $50 for non-members and $35 for members, compared to over $700 for membership to similar networking organizations.

About 40 business people gather around in tables of 10 each month to be refreshed and get connected. The Board is hoping to grow that number to 100 in the near future.

Through both his own business endeavor and through CBA, Mike hopes to encourage Biblical principles among business people. He believes that success in business is tied to the dedication to those principles. 

One example he gave is the principle of loving others. Empathy. He said, "Empathy is a hard thing. I get so much push back on that–people saying that it's a bunch of Kumbaya. Management styles of my day were my way or the highway, 

Mike's background includes training in Emotional Quotient application in the workforce. So he often addresses the EQ of the associates, their awareness of others, and their thoughts and their concerns.

Mike shared, "Leadership's real simple. How well do you know your people? How do you care about your people? How do you show them that you care about your people?

Drawing from an experience with football players, Mike said, "The quarterback is the leader." He pointed out an acute difference in the way Joe Montana interacted with his players as compared to other quarterbacks. 

Mike shared, "Montana knew all of his players' names. All of their wive's names. Every kid. And he remembered every Christmas and birthday. He might have had some help doing that.  He won four Super Bowls. Those were leadership characteristics that, when you break them down in a different way, he was showing empathy and sympathy, and he cared about his players."

Christian Business Association of the Palm Beaches meets on the second Friday of every month at Farmer's Table in North Palm Beach. Register at cbaofthepalmbeaches.com.