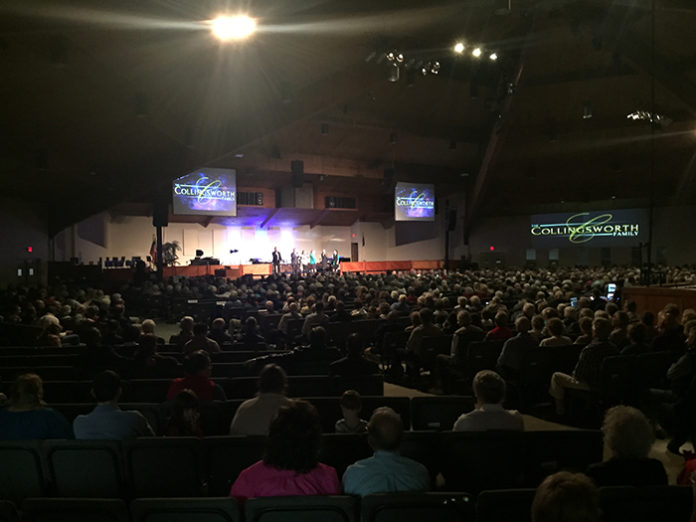 S unday evening, January 27th the popular music group, Collingsworth Family,  performed at Hobe Sound Bible College, where nearly two decades ago they served as music ministers.
With an impressive list of Bible Colleges and degrees, Kim and Phil began their music ministry 33 years ago, singing at local camps and revivals. The Collingsworth Family now includes their children, in-laws and the latest member of the musical group, four year old Emma Winston.
Kim taught the children music lessons in addition to home schooling throughout their early academic years. She also held prayer meetings in her home to pray not only for her own children, but for the children of friends and neighbors. Every Tuesday night they gathered in her living room to lift their names to the Lord.
"We would put them to bed early, and the little one, the youngest, would ask, 'What are you praying about?' And we would say, 'We're praying that you would serve Jesus your whole life.' And she didn't get it," Kim told Palm Beach Christian Voice, "but as they grew up, the Lord used those prayers and it really spoke to me about setting that time aside to pray for my children, to be intentional about it."
"I've gotten emails that people have started this exact same thing," Kim said. "It wasn't anything complicated, but the Lord just spoke to me, 'If you go out here and win the whole world, but your kids don't know Jesus…you need to take care of your front row here.'"
"Now they push us."
To see more events, like this one, visit our Events page.