At the inspiration of Missionary Sean Feucht, Christians from all over Palm Beach, Martin and Broward County gathered for a praise and worship rally at the Meyer Amphitheatre in downtown West Palm Beach on Sunday, September 20th, 2020.
Local resident, Mike Fineman, was deeply moved by the event, and said "This event was Epic! A diverse crowd of hundreds and hundreds of believers, both young and old, worshiping God together in unity, none giving any thought to their differences. All in one accord, led by The Holy Spirit, in downtown West Palm Beach. It was the most beautiful event that our amphitheater has ever seen!"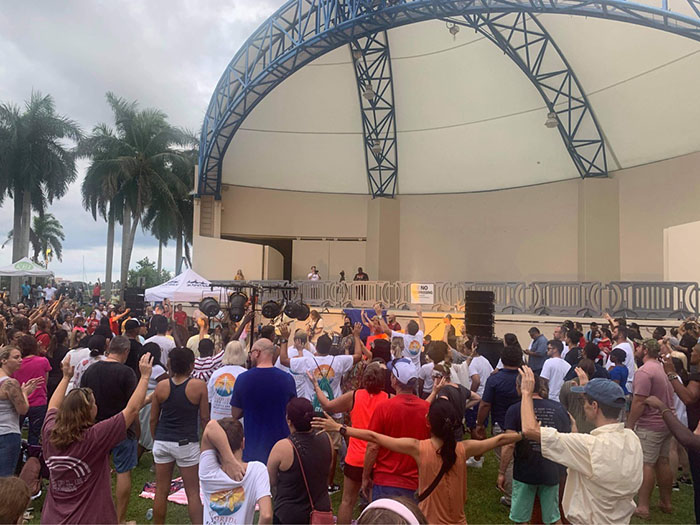 For the past eight weeks, Sean Feucht has been hosting Holy Spirit filled prayer rallies with the help of local pastors from regions across the United States that have caused a wave of revival in America.
Brian Fleck, who ministered for many years at a Jupiter church, said of the event, "It was really awesome seeing the body unite, especially the younger generation. Since it was on Rosh Hashanah weekend, one of the meanings of the New Year is gathering and uniting. And since Florida is a "forerunner" state, I believe it is a prophetic sign of what God is doing."
All in one accord, led by The Holy Spirit, in downtown West Palm Beach. It was the most beautiful event that our amphitheater has ever seen! ~Mike Fineman

Missionary Sean Feucht faced opposition from from some residents and business owners, but this did not deter him from conducting the praise rally at West Palm Beach. Feucht expressed his concern that Christians were being held back from gathering for in person worship even while rioters, looters, and Antifa were being permitted to hold their protests.
Feucht asked the church to stand up and let their voice be heard in light of other government municipalities shutting down the churches.
Social distancing and lack of masks was a concern for some at the 10,000 square foot outdoor venue. However, the event was conducted peacefully and without incident.
Sergeant Dave LeFont, of the West Palm Beach Police Department told Palm Beach Christian Voice that the police officers handled the event like a protest.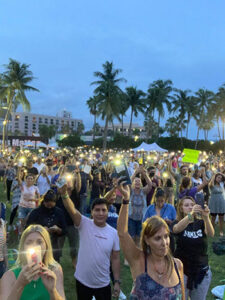 "There is a protocol [for protests] and there was not one single incident whatsoever. There were no calls for service officers. [Feucht] did not pull permits for the Meyer Amphitheatre. Our intelligence unit is aware that he was shut down at a rally at another location, and he just went one mile down the road and continued the event. That told us that if they are removed from this location, they may go to another space–he is likely to do the same thing here."
Feucht is advocating the freedom of worship and reported that he has been organizing these prayer rallies in response to the unrest in America, with the goal to restore peace in such cities. Feucht mentioned other cities where Christian gatherings have been banned, such as Virginia where he found that any Christians found gathering will be charged with an arrest penalty and imprisonment. He is also protesting the shut-downs in Los Angeles, California where government officials have shut down churches and denied the Christians freedom of worship.