Food insecurity seems to be growing across America, and Palm Beach County is no stranger to it. Thankfully, programs like The Food Pantry of Restoration Bridge International (RBI) and people like founder Pastor Dan West bridges that gap for many people here in Palm Beach County.
Since its inception in 2005, Restoration Bridge has fed thousands of people and last year alone supplemented over $11.6 million dollars in food to clients who came to receive. You fed me when I was hungry….
Offering temporary food assistance at their event site every Saturday from 9 a.m. to noon, Pastor Dan, and a whole host of volunteers work diligently to pack trucks, set up tents and tables and unload food boxes.
The event setup is located at Church by the Glades at 127 South M Street in Lake Worth providing fresh produce, canned goods, meat and more.  Restoration Bridge, Pastor Dan and the many volunteers are making an active effort in living out the Gospel and feeding the hungry.
For I was hungry, and you gave me food to eat. I was thirsty, and you gave me drink. I was a stranger, and you took me in. Matthew 25:35
The community-acknowledged ministry is set up to supply temporary assistance  to anyone who visits on Saturday mornings. With a drive-up experience, friendly volunteers await to load boxes of items in the client's vehicle. Place of Hope, Trustbridge and the City of Lake Worth have all honored RBI Ministries with awards. And just recently Pastor Dan was given the first ever 'Quantum in the Community' Marie Thorpe Above and Beyond Award. It is said Pastor Dan doesn't seek attention for his service and that he hasn't slowed down just because the community has been hit by COVID 19.
A sense of 'community' is definitely felt when the volunteers and clients gather together within the Restoration Bridge ministry. In going through the food line, tents and tables are organized and registrants greet the guests with a smile. Under usually sunny skies, with scattered tree shaded areas in the large parking lot of Church by the Glades, volunteers are ready to support the guests and come into agreement in prayer, on the spot, if requested.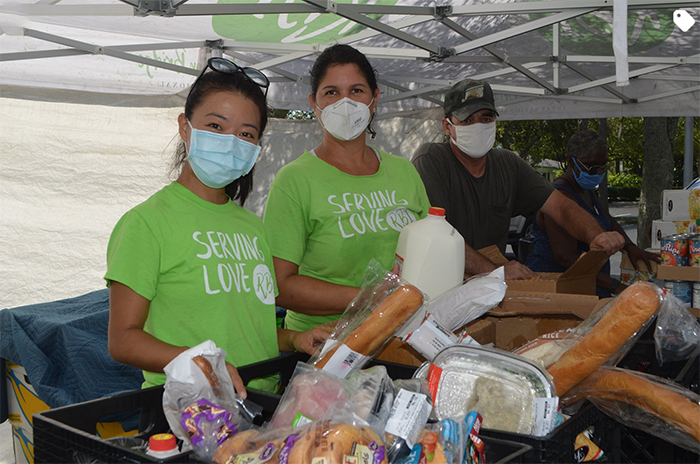 It is not unusual to see ministry happening during the few hours while clients are in line. Routine volunteers, as well as those coming to serve when they are able, seem to allow for a blended feel with the recipients, that transcends a haves and have-nots environment.  This is brother helping brother and sister helping sister, living out the Gospel of Jesus Christ.
Pastor Dan explained that there have even been more than a few healings due to the accompanying prayer ministry, and that up to 30 people on one Saturday morning alone have accepted Christ as their Savior.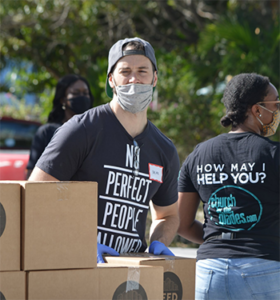 Continuing on with the sense of community, after the food line closes, volunteers can join together for a family style meal freshly prepared by talented Chef Patrick Livingston of Above the Sea Ministry, before heading back home. The hardworking service staff gathers around tables thanking God for the opportunity to serve others, and the meal before them, and enjoy a time of fellowship together.
The Food Pantry of Restoration Bridge, that serves also at Drexel House community and Southridge for Seniors, both in West Palm Beach, is a beacon of light and will continue providing food assistance to those in need in Palm Beach County.  Plans for growth are also a part of the future for RBI.
Pastor Dan, founder, worked with GMAC for 20 years, until he was asked to consider coming on staff at Trinity Church International in Lake Worth in 1985. He accepted, and later found out he had only six months left to be vested where he had worked. He had already resigned, but said he "had peace" about it.  And while at Trinity he saw a need and soon started a small food closet. He continued on with the small ministry and in 2005 he was given his first determination letter (nonprofit status). Today, that small seed of discerning a need has turned into a ministry giant. In 2020 alone, RBI is on target to supply $15 million in food to those in need.
Pastor Dan continues to be open to God's leading. Future projects include purchasing a semi truck and the setup of larger distribution centers. The current program affects Palm Beach County and surrounding areas.
A lot of hard work, a lot of prayer, and hearts that beat with the heart of God, enveloped in Pastor Dan and the numerous staff and volunteers over the years, carry the gospel message in a very real way to Palm Beach County, and beyond.
If you are in need, please visit Church by the Glades at 127 South M. Street in Lake Worth, FL on Saturdays from 9 a.m. to noon.
If you are led to offer support in any number of ways including donations, loading, CDL driver, and registrants or prayer partners,  please contact: Restoration Bridge International at facebook.com/restorationbridge where you will find up-to-date donor options and volunteer information, or visit www.restorationbridge.com