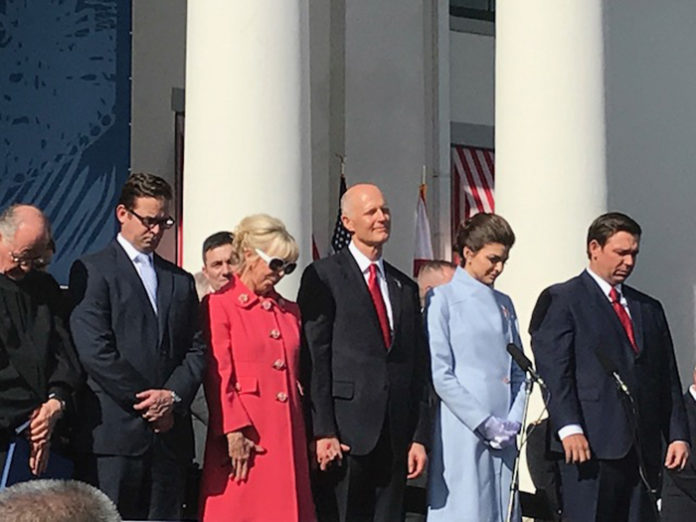 TALLAHAASSEE, FL – Tuesday, January 8th, 2019, Governor Ron DeSantis and his advisors attended a prayer breakfast before the swearing-in. Faith leaders from across Florida came and made passionate supplications to the Lord on behalf of this State of Florida.
Willy Guardiola, of Palm Beach County, shares his experience of the event from his faith perspective:
Dear fellow Christians,
Of all the events that took place on this historic Inauguration, I can honestly tell you that the one event that I enjoyed the most and the one that truly set the tone for the entire two days and for the entire four years of the DeSantis governorship was this most moving Inaugural Prayer Breakfast with the theme: "Working Together in Faith". I only wish they would have been more creative and spelled Together like I do – TWO-GETHER – as in ~ US AND JESUS.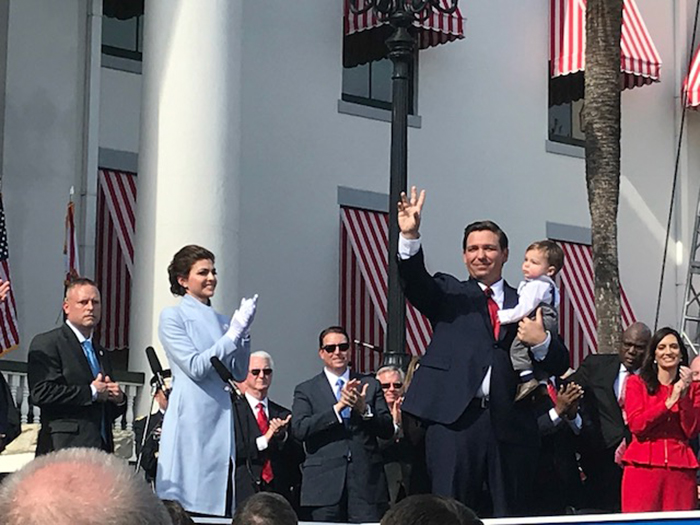 As you can see from the photos, there were quite a few people on the stage, mostly made up of religious leaders. From fiery Black Baptist preachers to prayerful pastors and ministers to soft-spoken rabbis – they were all there, including the pastor from local Palm Beach Gardens Mega church – Christ Fellowship – Pastor Todd Mullins.
From fiery Black Baptist preachers to prayerful pastors and ministers to soft-spoken rabbis – they were all there, including the pastor from local Palm Beach Gardens Mega church – Christ Fellowship – Pastor Todd Mullins.
Every single pastor, minister, preacher and rabbi were truly outstanding in their prayers, remarks, commentaries and thoughtful messages. Every single one of them spoke with conviction and every single one of them quoted Holy Scriptures with fiery passion…
And, that includes our own new Lieutenant Governor, Jeanette Nunez, and our new Governor, Ron DeSantis. Heck, they both sounded like Evangelists. What a refreshing feeling to hear our two new leaders speak about the importance of GOD, of Prayer, of working Two-gether as One Body in Christ.
Jeanette Nunez truly blew me away and just knowing that she grew up like five minutes from my beloved mom's house in Miami and attending Westwood Christian School from kindergarten to graduating as a senior at this wonderful school, pretty much summed it all up. Her speech was truly outstanding and totally GOD-filled.
Ron DeSantis followed her talk and, yes, being a former baseball stand-out at Yale University – our new bold governor hit one out of the park with 3 Men on base – the Father, the Son and the Holy Spirit…Need I say anymore, folks???
People say that the most important meal of the day is "Breakfast". I will agree with that as I can say that the most important event that took place on the very first day that our new Governor and Lieutenant Governor took over as our state's most people powerful leaders was this Inaugural Prayer Breakfast.
They did not exaggerate when they called this breakfast a "Prayer" breakfast, as I told the two gentlemen from Ocala who were sitting with me at the table (including a Pastor, himself – Pastor Andy Bloom), "After this Prayer Breakfast, I don't think I need to go to church for a good five Sundays. I got enough church today from all of these wonderful men and women of GOD to last me at least five weeks"…[Father, Forgive me…I'll see you on Sunday, Father Tom Barrett…]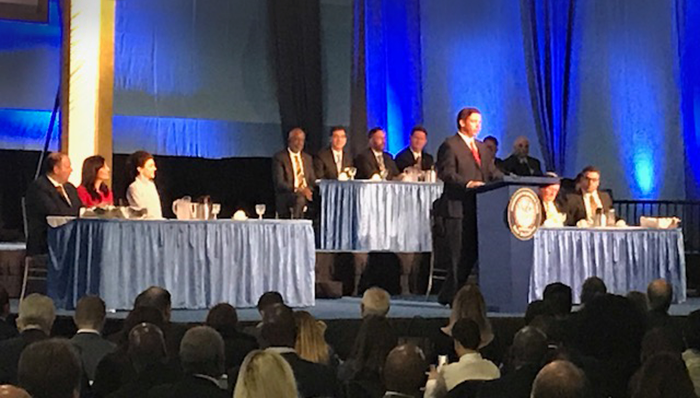 In closing, if our state leaders can keep Prayer as a Prerequisite in all that they do for the 21 million Floridians in our beloved Sunshine State (just like President Trump and his staff do in the White House with their Daily Prayer Briefing for the 325 million Americans), we know that we will be successful because "With GOD, all things are possible". Prayer has to be the most important tool in any administration in order for it to survive and thrive as if I had one prayerful wish during this remarkable Prayer Breakfast it would have been:
"I wish that Andrew Gillum & his entire campaign team could have been present at this ever-moving event to show them how a new administration needs to begin their four years of governing, reassuring every single person in that beautiful Florida A&M University Alfred Lawson, Jr. Multipurpose Center, that "if you don't put GOD first in all that you do – you are clearly all on your own and will be missing the most important ingredient in the new administration – The One Who Created Us All In His Image and Likeness – GOD, Himself. And, it would have only been appropriate that Andrew Gillum would have been present as he is a graduate of Florida A&M University, himself. Gillum could have received another degree at that Prayer Breakfast – a Doctorate in Theology – and his beloved grandmother would have been totally ecstatic!!
Let Us Pray…
Thank you for your time, efforts and support. Let's please follow the new DeSantis administration's lead and put prayer in all that we do, beginning with fervent prayer for the entire DeSantis team!
In God we must! In prayer we trust!
Willy Guardiola
Christian on a Mission