A soft pinwheel cookie full of flavor with fresh ground cranberries, pecans and orange zest baked to perfection.   Cranberry pinwheel cookies are so pretty for a Cookie Tray!  To package these cute cookies try using card stock lined CD wrappers for gift giving or spread cookies overlapping each other on a long cookie tray. 
For best results, wrap the logs in plastic wrap and foil, then freeze until ready to slice and bake. Just allow the cookies to thaw 10 minutes before slicing and baking.
Whether making cranberry relish or baking cookies… freezing several bags of cranberries during this season is a good idea if you love fresh cranberries throughout the season and new year!   
How to Present Cranberry Pinwheel Cookies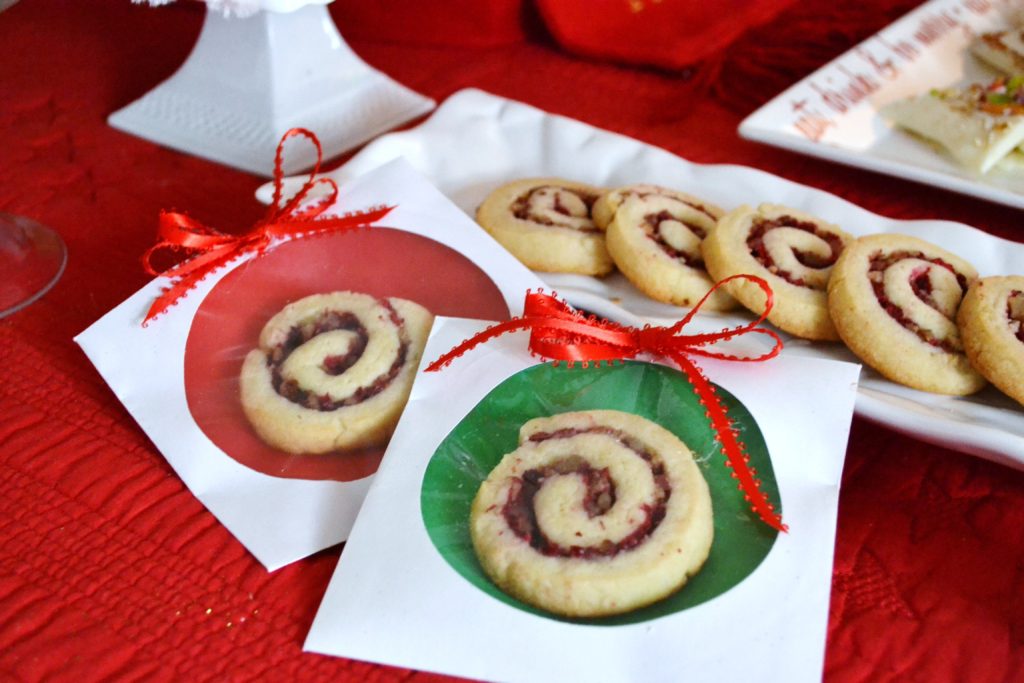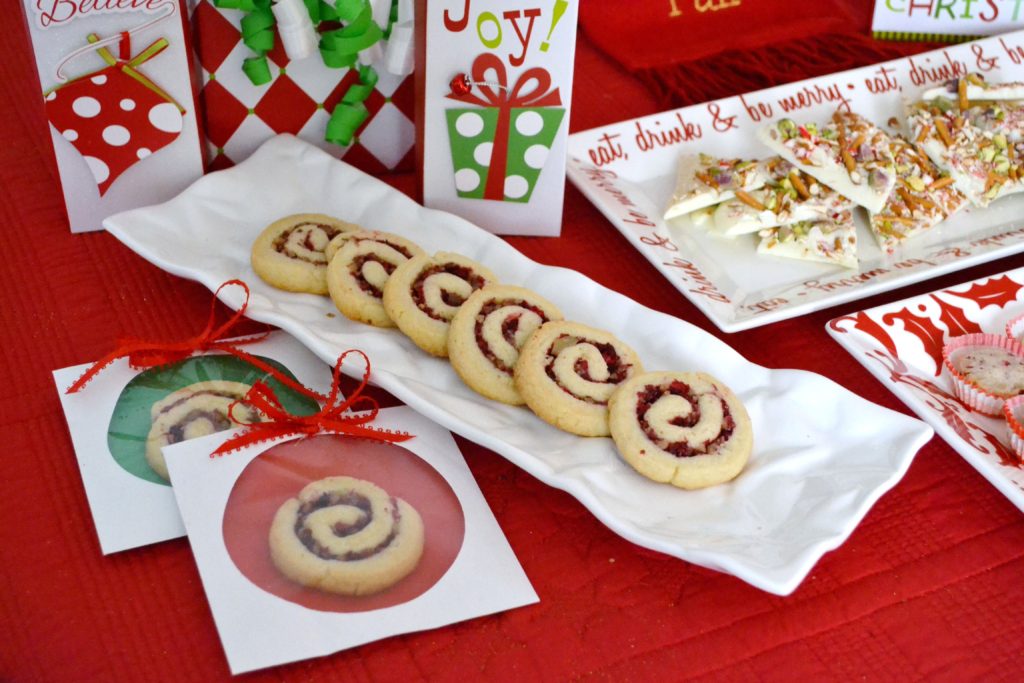 CRANBERRY PINWHEEL COOKIE RECIPE
Author: Liz Bushong
Yield: 36 cookies
INGREDIENTS
1/2 cup butter, softened, no substitutes

3/4 cup sugar

1 large egg

1 teaspoon vanilla

1 1/2 cups all purpose flour

1/4 teaspoon baking powder

1/4 teaspoon salt

1/3 cup finely chopped fresh cranberries

1/2 cup ground walnuts or pecans

1 tablespoon grated orange rind- optional
INSTRUCTIONS
Cream butter and sugar at medium speed with mixer until light and fluffy.
Add egg and vanilla.
Gradually add flour, baking powder and salt.
Cover dough and chill for 1 hour.
Filling:
Process cranberries in food processor to finely chop, remove to medium bowl.
Process nuts to ground, add to cranberries and grated orange rind to medium bowl-set aside
Roll:
Turn dough on floured surface, roll into a 10″ square
Spread cranberry-nut mixture leaving a 1/2 " border on 2 opposite sides
Roll up dough like a jelly roll, cover and freeze 8 hours or until needed
Baking:
Cut roll into 1/4″ thick slices. Place slices on parchment lined or lightly greased baking sheet.
Bake on top rack in oven at 375 for 14-15 minutes.
NOTES
Freeze up to 2 months. Be sure to wrap in parchment or wax paper, then foil when freezing.
Tip: The finer the cranberries the easier it will be to slice the cookies especially if slightly frozen.
Tip: Best results, allow cookies to thaw slightly before cutting and baking.
This recipe was inspired by Patty Van 2004.  
Check out these other Cookie Recipes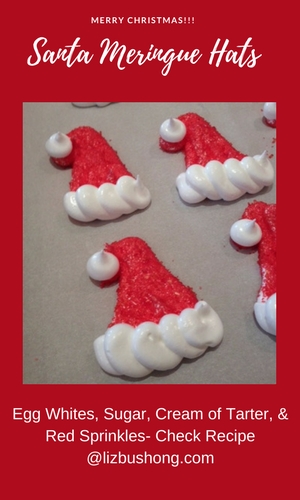 ---
Ricotta Lemon Cookies, Poinsettia Cookies,   Santa Meringue Hats,  Snowmen Oreo Pops,  Stained Glass Chocolates,  and Kit Kat Christmas Trees.  I freeze cookies without decoration then decorate a few at a time when putting together my cookie trays.  Be sure to check out how to Assemble a Show Stopping Cookie Tray.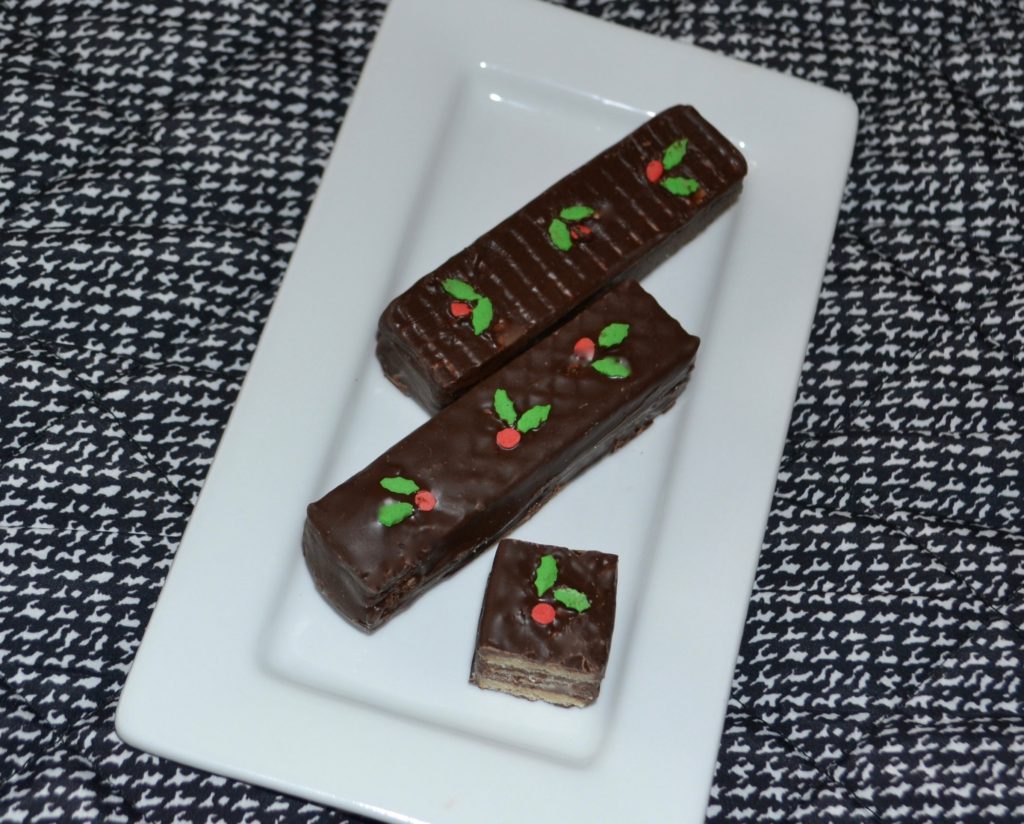 About the Author

About the Author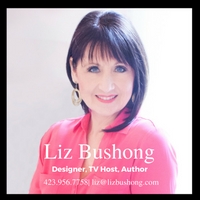 Liz Bushong is an expert in the three-dimensional art of entertaining. She transforms simple dining occasions into beautiful and memorable moments by adding a touch of her own "sassy" style. For the past several years Liz been entrusted to decorate the White House for several Holidays. She is a featured monthly guest chef/designer on WCYB TV 5, WSLS10-Daytime Blue Ridge and other television shows. Liz is the author of Sweets & Savories cookbook as well as past contributing writer for VIP Seen and Bella magazine. See recipes and ideas: lizbushong.com and social media. Liz is offering a free download of Black and White Creative Tablescape Ideas when you subscribe to lizbushong.com.